Downtown Sioux Falls has undergone a remarkable transformation in recent years. Once struggling to attract shoppers and visitors, it is now bustling with activity and has become a popular destination for locals and tourists alike.
However, as more and more people flock downtown, it has become increasingly clear that space is limited. Wise pedestrians keep a wary eye on speeding and noisy vehicles as they walk the sidewalks and cross busy streets. It is time for the city and others to take bold steps to create more people spaces and reduce the impact of motor vehicles downtown.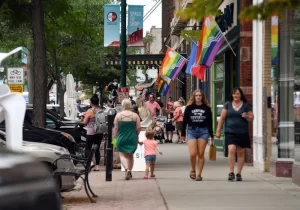 Downtown's Recent History
Forty years ago, downtown Sioux Falls was struggling. City residents had abandoned the area, opting instead to shop and dine in the malls that had sprung up on the outskirts of town. The downtown area was largely empty, with many buildings sitting idle or underutilized. To reverse this trend, the city decided to close off part of Phillips Avenue, hoping to create a pedestrian-friendly space that would attract visitors back downtown.
Regrettably, the timing was awful. Suburban malls were a big thing nationally, and downtowns were struggling. So, the experiment inevitably failed.
A Neighborhood Like No Other
Fortunately, everything is different today. The malls that were once so popular are now struggling to stay afloat, and downtown Sioux Falls is thriving. It is a regional attraction, the centerpiece of our community.
Downtown is home to some of the city's most popular attractions including Falls Park, the Washington Pavilion and the Levitt Shell. The area also possesses a diverse mix of retailers, bars, restaurants, and other services that draw crowds of visitors and tourists each day.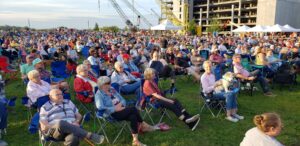 In addition, thousands of people now call downtown Sioux Falls home, making it one of the most vibrant and dynamic areas of the city.
Daytime Downtown is Bustling
Daytime downtown is thriving. It is a fun people place during the workday. Crowds walk the sidewalks, check out the sculptures, shop, dine and congregate. Retail shops and restaurants are open. Office workers are busy, as are city officials. Downtown is abuzz.
But eventually business owners, office workers and city officials go home for the night. Over the next few hours, especially on Thursday, Friday and Saturday nights, a different downtown emerges.
Nighttime Downtown is Out of Control
Nighttime downtown is a party place. It can be crazy when the weather cooperates. There are lots of noisy, happy people wandering the streets. The sip-n-cycle goes by with loud singing people. Revelers are drinking, shouting and partying. But it's not all harmless fun.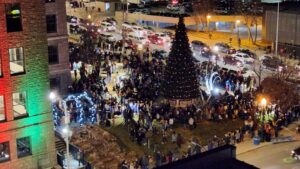 Some vehicle drivers feel compelled to join the festivities by making as much noise as they can. It can be painfully loud. Outdoor diners are forced to take frequent breaks in their conversations. The excessive noise goes on well past midnight. Residents who live nearby have little chance of a good night's sleep.
One downtown resident noted that while the traffic laws downtown are the same as elsewhere in town, enforcement is much less effective. Another observed, "it's like a frat party, with no adult supervision". No other neighborhood in Sioux Falls has this sort of regular nighttime challenge. The police seem frustrated with the situation, and perhaps resigned to acceptance of it.
Several people have reported that this problem appears to be unique to Sioux Falls. It is not such a serious issue in other Midwest downtown areas.
Motor Vehicles Make Life Tough for Pedestrians and Diners
Downtown's success creates new challenges. With so many people flocking to the area, pedestrian space has become increasingly limited, and visitors must navigate busy roads filled with noisy, polluting and speeding vehicles. Some drivers like to loop through downtown again and again to check out the crowds. Some rev up their engines to show off. This can be especially challenging in the summer months when temperatures soar, and the noise and air quality downtown can be poor.
Many Groups Have a Stake in Downtown Sioux Falls
Given the challenges, there is no guarantee downtown will remain the popular community attraction it has become. It deserves thoughtful care, planning and attention if our community is going to continue to benefit from it.
Many groups and organizations have a strong interest in maintaining a healthy, vibrant downtown Sioux Falls. Downtown Sioux Falls, Inc. (DTSF) works to promote retail downtown. Experience Sioux Falls promotes downtown to thousands of tourists and visitors. The Chamber of Commerce wants downtown to be healthy to help attract and retain workers. Forward Sioux Falls wants a vibrant downtown as a part of the attractive package it uses to promote economic development. Residents have the Sioux Falls Downtown Residents' Association to advocate for their interests. And big developers rely on a vibrant downtown for their projects.
At first blush, DTSF may seem like the most likely organization to manage the wellbeing of downtown. They have a great brand and seem positioned to handle downtown issues. But even after a recent boost in one of their revenue sources, they are still underfunded and understaffed for the job that exists today with our thriving downtown.
Maybe the city is a more logical stakeholder to take ownership of downtown and address its problems. The city has the resources required and the health of downtown is certainly critical to the community's future.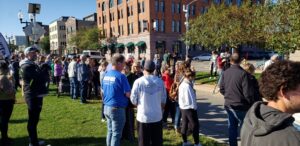 Let's Be Creative
The city should consider taking bold steps to reduce the impact of cars downtown and create more people spaces. Stronger enforcement of existing traffic laws would sure help. And structurally, one possible solution would be to close certain roads or limit access to vehicles during peak pedestrian times. This could create more room for pedestrians to enjoy the sights, sounds, and attractions of downtown without having to contend with noisy, smelly and unsafe cars, trucks and motorcycles.
Ultimately, the success of downtown Sioux Falls depends on the city's ability to adapt and evolve over time. As the area continues to grow and change, it is essential that the city prioritizes the needs of its residents and visitors and takes bold steps to maintain a safe, sustainable, and vibrant downtown that is accessible to all. By reducing the impact of motor vehicles and creating more people spaces, the city can ensure that downtown Sioux Falls remains a thriving and vibrant destination for years to come.